Vic Beasley to SAM Affects the Falcons' IDP Potential
Being in education grad school has put me through an interesting intellectual journey. One of the first exercises we did in the program was to write our own "Autobiography of a Learner", an essay assignment that helped us think through the influences that formed our ideas about school and learning. This lesson, among others, really opened up old memories of my grade school days.
One moment in particular that still rings loudly to me is when my fifth-grade teacher, incensed over some misbehavior, yelled at me in front of the whole class, saying: "You know, for such a smart kid, you do some really dumb things!"
That moment has taught me a lot about how I want to treat my students, and how I don't want them to ever think that they're dumb, but that phrase has stuck with me in the choices I make in life: Is this a dumb thing?
I hope Atlanta Falcons head coach Dan Quinn asked himself that before he decided to shift budding star defensive end Vic Beasley to strong-side (SAM) linebacker. Yes, Beasley, who led the anemic Falcons pass rush with a meager 4.0 sacks (albeit on just 558 snaps), is being moved off of his best possible pass-rush spot to play 4-3 linebacker.
This got me wondering: Is this a dumb thing? With Beasley's shift, what other players will also be affected for Individual Defensive Player (IDP) fantasy football?
Stupid Is as Stupid Does
Let's set the scene: the Falcons under Quinn run a 4-3 Under defense, meaning there are four down linemen and three linebackers. The diagram below illustrates the basic positioning of these players on the field for us.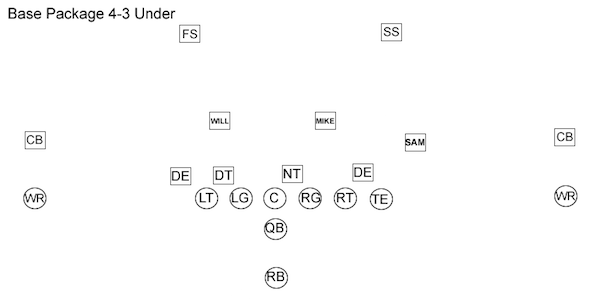 As you can see, there are two defensive ends lined up on either side of the line in the 5-technique, or outside the left and right tackles. The weak-side defensive end is known as the LEO, and the strong-side end is the DE. There are also interior defensive linemen: in the 3-technique – or outside the left guard – is the defensive tackle (DT), and in the 1-technique – off the center – is the nose tackle (NT). The three linebackers are identified by their position relative to the offensive line also: weak-side linebacker (WILL), middle linebacker (MIKE), and strong-side linebacker (SAM).
The duties for the positions vary a bit from the norm; most 4-3 defenses have the nose tackle stay at the line of scrimmage and control the gaps on either side of the center, while the other three linemen rush the backfield. In the Falcons' version of the scheme, each player is only responsible for one gap in the offensive line, as the lines on the diagram show. The SAM often tends to rush the passer as well, like Bruce Irvin of the Seattle Seahawks; remember, head coach Dan Quinn was the defensive coordinator for Seattle prior to accepting his job with the Falcons, so this is a nearly identical defensive system.
For fantasy purposes, this alignment tends to highlight the LEO for sack upside. Among the top-ten 4-3 defensive ends in sack totals last year, eight of them played in the weak-side end – or, for the Falcons, LEO – role. This is the same spot that has made a sack artist out of Robert Quinn and Ezekiel Ansah, but the Falcons plan to move Beasley out of that role.
Another major fantasy benefactor is the MIKE linebacker for tackle chances; Paul Worrilow was on pace for 102 total tackles in the Falcons' defense last year. WILL linebackers also tend to have plenty of tackle opportunities as well as coverage chances; K.J. Wright of the Seahawks has averaged 97 total tackles and 4 passes defensed in a full season.
So, what changes will be made to the Falcons' front seven, and how will this impact their fantasy value?
So You're Telling Me There's a Chance
Let's start with the defensive tackles. Last year's interior defensive line was composed of Paul Soliai and Jonathan Babineaux rotating at nose tackle, and Ra'Shede Hageman, Babineaux, and Grady Jarrett rotating at the defensive tackle role.
There are rumblings that Hageman will see snaps at defensive end this year, indicating that he will move to the strong-side end role and allow Tyson Jackson to play inside at the 3-technique defensive tackle spot. With penetrating the line and pass-rushing as Hageman's big weakness, they wanted to move him to a spot that would allow him to play gap control and minimize his blitzing. That means that, with Soliai's release, the likely base interior defensive line for the Falcons will be Babineaux at nose tackle, Jackson at 3-technique defensive tackle, and Hageman at 5-technique defensive end.
The next given we have is that Vic Beasley will move to the SAM linebacker spot due to his run defense deficiencies, leaving the LEO open and displacing projected SAM starter Courtney Upshaw. We also know out of Falcons OTA's that rookie Deion Jones is locked in as a starting linebacker, though it's not decided whether that will be at the MIKE or WILL. For my money, I would bet that they use his 4.38 40 Yard Dash speed and impressive coverage skills – he was considered as a safety by some teams in a Deone Bucannon-type mold – at the WILL spot, and allow competition to play out between Brooks Reed, Worrilow, Sean Weatherspoon, and rookie De'Vondre Campbell for the MIKE job.
That still leaves the question of who will play the lucrative LEO spot on the defensive line. In a part-time role last year on 596 snaps, Adrian Clayborn did decently as a pass-rusher (3.0 sacks), and does have the edge-setting chops to play the run on the weak side. In his two full seasons as a starter with the Tampa Bay Buccaneers, Clayborn averaged 12.5 tackles for a loss and 6.75 sacks. With that kind of upside, he's probably the best candidate to play the role, and that would create a base defense that looks like this:
In addition, there's a very good chance Beasley remains a sub-package defensive end, with some of the roles shuffling next to him. That would allow him to not be obliterated by road-grading blockers on running plays and still give him a chance to attack the quarterback on passing downs.
According to head coach Quinn, the Falcons ran their nickel defense around 60 percent of the time in 2015, with 641 snaps in that alignment. If that number holds in 2016, that will be 600 or so snaps where Beasley solely gets to rush the passer, which is almost 50 more snaps than he played all of last season. The nickel defense could look like this:
So, really, moving Beasley (and Hageman) on base downs is just maximizing each of the Falcons' talents and minimizing their weaknesses. And that's pretty darn smart in my book.